The basics of Homeowners coverage.
To put it simply, homeowners insurance is designed to repair, replace or recover the value of what you currently have (under coverage) if it's damaged due to any number of causes.
Types of Claims and Cause of Damage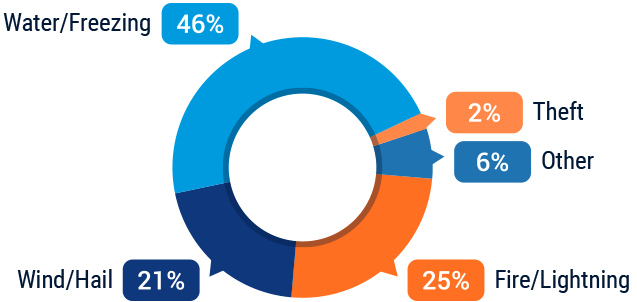 Property Damage – This is by far the biggest claim maker, which includes damage to your house and any structures on your property due to water, fire and severe storms among others.
Natural Disasters – Homewreckers like floods and earthquakes are usually not covered by basic plans, meaning, you'll need added coverage or a separate policy to keep your goodies protected.
Standard Home Liability – This will cover you financially if someone is injured or their personal belongings are damaged while on your property.
Extra Money for Living – If your house is too messed up to live in while it's being repaired or rebuilt, most policies will pay for a hotel and other living expenses, like groceries.
Personal Property Coverage (AKA your stuff) – This will depend on the policy. Items like furniture may only be covered up to a depreciated value, but stuff like your bling might not have any coverage and will need additional insurance.
Is Homeowners insurance required?
Homeowners insurance isn't required by law, but most lenders will be sticklers and will require a policy in order to give you a loan. At a minimum, they'll want your policy to cover or exceed the amount you owe on the loan.
I have a Homeowners policy. I'm fully covered, right?
Many homeowners think they're fully covered. Unfortunately, they're not, and figuring this out when it's claim time can be infuriating. Finding the right coverage depends on a number of things, from crime rates to wildfires in your area. Here are several hacks to help you.
Three Home Insurance Hacks
Add an umbrella policy to increase coverage by up to $1 million or more.
Protect higher-value items like jewelry and art through "riders" or "endorsements."
Get replacement cost home insurance instead of "actual cash value," which only covers the current depreciated value.
How do I get the best coverage for the most affordable rate?
We know what you're really looking for — fast and easy insurance quotes in 30 seconds or less. We get it, you want the goods ASAP, but choosing speed over accuracy can leave you high and dry or low and wet.
Robots and algorithms may be quick, but your peace of mind isn't a variable in their quoting equation. Not only that, our competitors may sell your info to multiple companies, which can result in calls, on calls, on calls.
We flipped the script on this process.  We take the wheel and do the work to find the best quotes to fit your needs perfectly.